Art Therapy - "How To Use Art Therapy With Others" has been created for people who are interested in therapeutic art and the creative process, either for self exploration and healing, or for the purpose of working with other people to help support them in a therapeutic setting.
The therapeutic, creative process of self expression through art, can improve our physical and mental health, as well as our emotional well being.
It helps us to manage our feelings in a more positive way
Can give us the confidence to address and resolve issues from the past and present
Increase self esteem and develop a greater self awareness
Creating art provides an outlet to express yourself freely, which will encourage and promote a healthier, happier life.
You don't need any previous experience, and the course is suitable for everyone. Please be aware, this course will not qualify you to work as an art therapist.
What does the course cover?
The course curriculum covers a range of topics. We'll be looking at how to use various art therapy techniques in a range of settings, This includes painting, drawing as well as using music, dance and even drama as a therapeutic tool enabling you to bring healing and harmony to both yourself and to your clients.
We'll also be looking at how we can utilise the creative process to address specific issues such as authenticity, recovery and mental health, as well as using therapeutic art techniques for the treatment of things such as PTSD, illness and when working with children.
Artistic therapy can be incredibly useful for children who may have experienced bullying or trauma and can provide a safe sanctuary to share their feelings and emotions.
As we progress through the course, we'll be looking at the interpretation of art and understanding the importance of non verbal communication, especially when working with clients who have experienced trauma or survived traumatic events.
Use art as a means of self expression
Help others use the arts to heal and empower themselves
Help others by supporting them through the arts and the creative process
Enjoy the benefits that creative art brings to our emotional and physical well being
Use art as a means of relaxation and to unwind
Create art as a means for self healing and self discovery
Use the creative process for pure enjoyment and recreation
Explore facets of your personality and your clients' personality using the creative process
How to use Art Therapy - Course Content
Section 1: History and Context
Lecture 1: Introduction
Lecture 2: Artwork Featured in this Course
Lecture 3: A Short History of Art as Therapy
Lecture 4: "Cave Paintings" By Abbey (Exercise)
Lecture 5: "Cave Paintings" By Christy (Exercise)
Lecture 6: "Cave Paintings" By Wendy (Exercise)
Lecture 7: "Cave Paintings" By Rosa (Exercise)
Lecture 8: Providing a Context for Art in Therapy Today
Lecture 9: Benefits and Advantages of Using Art Therapy Techniques
Lecture 10: Imagery and Dreams "Sheelin" (Exercise)
Lecture 11: Imagery in Art Therapy "Daniella" (Exercise)
Section 2: Developing a Broader Understanding of Art Therapy
Lecture 12: Art Therapy Through All the Arts
Lecture 13: Art Therapy Through Dance
Lecture 14: "Therapy Through Dance" - Serena
Lecture 15: Therapy Through Drama
Lecture 16: Art Therapy Through Music
Lecture 17: Art Therapy Through Music "Michelle" (Exercise)
Lecture 18: "Therapy Through Music" By Abbey (Exercise)
Lecture 19: Combining Art Therapy Approaches
Lecture 20: Combining Art Therapy Approaches "Rosa" (Exercise)
Section 3: Art Therapy Techniques In Practice - Part One
Lecture 21: Part One - Understanding the Ageing Population
Lecture 22: Part Two - Understanding the Ageing Population
Lecture 23: Part One - Supporting the Ageing Process with Art Therapy Techniques
Lecture 24: Part Two - Supporting the Ageing Process with Art Therapy Techniques
Lecture 25: "Ageing" By Rhonda (Exercise)
Lecture 26: "Ageing" By Malka (Exercise)
Lecture 27: Art and Mental Health
Lecture 28: Art and Mental Health "Julie" (Exercise)
Lecture 29: Colour and Colour Therapy Perspectives
Lecture 30: Colour and Colour Therapy Perspectives "Yvonne" (Exercise)
Lecture 31: Authenticity, Creativity and Recovery - Part One
Lecture 32: Authenticity, Creativity and Recovery - Part Two
Lecture 33: "Authenticity, Creativity and Recovery" By Christy (Exercise)
Section 4: Art Therapy Techniques In Practice - Part Two
Lecture 34: Stress, Anxiety and Trauma - Part One
Lecture 35: Stress, Anxiety and Trauma - Part Two
Lecture 36: PTSD - Part One
Lecture 37: PTSD - Part Two
Lecture 38: Part One - Working with Children in Different Contexts
Lecture 39: Part Two - Working with Children in Different Contexts
Section 5: Art Therapy Techniques In Practice - Part Three
Lecture 40: Avoiding Over Interpretation
Lecture 41: "Avoiding Over Interpretation" By Christy (Exercise)
Lecture 42: Part One - Art Therapy Techniques in the Aftermath of War, Terrorism and Crisis
Lecture 43: Part Two - Art Therapy Techniques in the Aftermath of War, Terrorism and Crisis
Lecture 44: "Art Therapy Techniques in the Aftermath of War, Terrorism & crisis" By Christy (Exercise)
Lecture 45: Part One - Understanding and Coming to Terms with Survivors Guilt
Lecture 46: Part Two - Understanding and Coming to Terms with Survivors Guilt
Lecture 47: Moving Forward
Your Instructor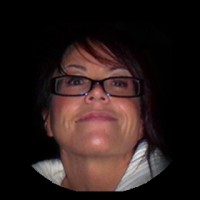 Psychotherapist
Author
Course Instructor